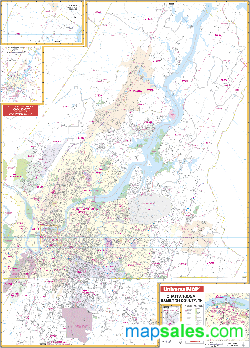 Click Map to Zoom
Note: This map can take as long as two to three weeks for delivery.
Chattanooga/Hamilton County, TN Wall Map
by UniversalMap
This 2003, fourth edition wall map by Universal Map shows Chattanooga and Hamilton County, Tennessee, in complete street detail. Map boundaries extend north to Soddy Daisy and the Hamilton county line, south to Rossville and Chattanooga National Park, east to Collegedale and the Bradley county line, and west to the Hamilton county line and Lookout Mountains. Features up-to-date cartography, a laminated surface (which is both dry-erase markable and easy to wash), and separate index book. Measures 54" x 77".
Item Code: 14622
Issue Date: 5/20/2003