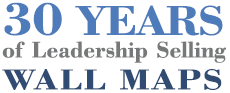 mapsales.com is the right place to purchase your wall map!


mapsales.com is firm in our belief that we are the finest provider of wall maps. This is evident in our 36 years of experience in publishing premium wall maps, our relationship with almost 100% of the Fortune 500 companies, as well as our continual growth each year. We offer a beautiful assortment of wall maps which cover every region, state, metro area, city, community and address in the USA.
Our clients receive fair prices!
At mapsales.com, we offer unbeatable prices for the quality mapping products that we provide. With wall maps that start as low as $25, we pride ourselves in our premium selection of affordable wall maps. mapsales.com offers additional savings with discounted wall map bundles that assist businesses everywhere in receiving the wall maps they need, at the most affordable prices!
Our clients get what they need!
We have pioneered the production of quality wall maps and data for 36 years, providing our customers with the wall maps they need, when they need them. Whether it is for business, education, or home décor, mapsales.com carries wall maps to suit every setting and occasion. Our clients can also custom create a wall map to meet their exact needs!
What we Offer
mapsales.com carries an assorted selection of wall maps for our variety of customers. This selection includes wall maps for business, education and interior décor. mapsales.com also creates custom wall maps for customers who need specific details on their wall map.
Wall Map Departments:

Education and Classroom: Wall Maps for every grade level and interests.
Interior Décor: Wall Maps to decorate the office, classroom, or home.
Canada: Wall Maps that cover every geographic region.
Sales Territory: Manage sales and market areas.
Gift Finder: Gifts to celebrate any special occasion.
Antique: Classic Wall Maps that offer detail, style and class.
Custom: Wall Maps created to meet your exact needs.
Delivery: Bring ease and efficiency to daily deliveries.

Companies we have worked with:

ADP
Budget Blinds
Culligan International
Fedex Ground
NJ Education Association
The Wall Street Journal
US Marine Corp
Watlow, Inc
ADT
C & Santa Barbara Magazine
Darwill
Fedex Home Delivery
State Farm Insurance
UPS
US Navy
Wide World of Maps
Atlas Marketing
Cisco Inc
Domino's Pizza
Kaplan Professional Schools
Suburban Energy Services
US Air Force
USPS
XL Insurance
Babies R Us
Clipper Magazine
Fedex Express
Merry Maids
The Paper Patch
US Army
Waste Management
Yellow Zip